Woodworking
We are the adhesive experts!
Henkel – Kenyon's the right partnership
Did you know that Henkel is the world`s Number One adhesives producer?
Founded in 1876, Henkel has more than 140 years of success.  In 2019 Henkel delivered sales of more than 20 billion euros, currently employs more than 52,000 people globally, and has 185 manufacturing facilities & 23 Research & Development sites worldwide.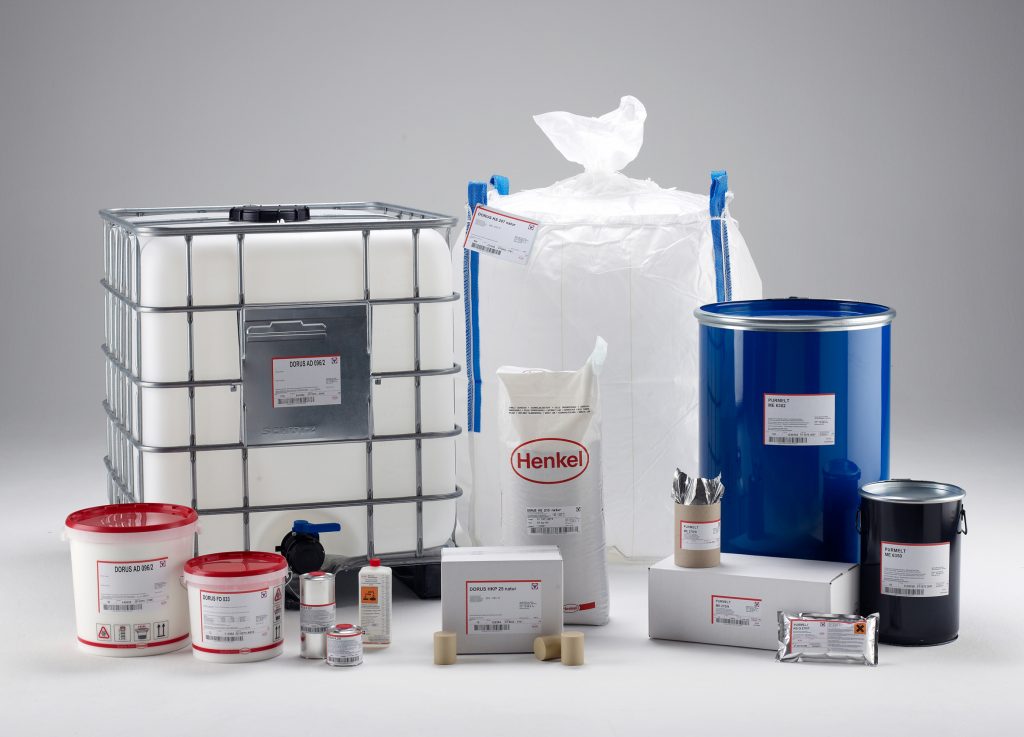 Kenyon's started this adhesive journey as a distributor for National Starch & Chemicals range of woodworking adhesives, growing from strength to strength to become the UK's top distributor for National Starch & Chemicals woodworking adhesives.  2008 saw the acquisition of National by Henkel, and Kenyon's were welcomed onboard and soon grew to Henkel Premium Partner status for furniture and building component adhesives.  These markets are supplied under the industry leading brand names Technomelt and Aquence, which are recognised for quality and proven performance – just ask anyone using Henkel!
Mike Bridges, Henkel UK and Ireland Sales Manager says "The Henkel – Kenyon partnership delivers the complete package – quality products, excellent service, technical support and product training. Kenyon's have grown into our UK's number one supply route for these markets and we are proud to work with a company who delivers on their word"
Henkel Technical Centre based in Bopfingen, Germany offers access to a full range of woodworking application equipment from edgebanding to 3D thermoforming pressing, and helps customers find answers to gluing problems under the careful eye of application specialist Walter Heldt . With this support at their disposal, Kenyon's can respond to market challenges with confidence, and deliver the best Henkel product for the application.
Who are Kenyon's and meet Kenyon's Technical Team
Kenyon's have been supplying adhesives since 1979 covering all aspects of manufacturing and assembly predominately in the furniture manufacturing and related markets. Our expertise and knowledge has been gained over the years by offering a comprehensive range of market leading adhesives technologies, UK stock holding across three warehouses and delivery when the customer needs it.  It's not surprising we like to say, if you have an adhesion problem, don't come unstuck, talk to the glue experts.
Talk to Kenyon's technical team to arrange a site visit:
James Hamilton – 20 years in adhesive technologies and applications
Call: 07807 107309 or Email: jameshamilton@kenyon-group.co.uk
Darren Ogden – 10 years technical adhesive sales to assembly markets
Call: 07989 337891 or Email: darrenogden@kenyon-group.co.uk
Chris Brown – 15 years background in manufacturing and adhesives
Call: 07494 895482 or Email: chrisbrown@kenyon-group.co.uk
James Hamilton says "this partnership means a lot to Kenyon's.  Being a Premium Partner is an honour which reflects our commitment to providing quality products for woodworking, furniture, caravan, insulation, mattress, window, and door manufacturers.  The Kenyon's – Henkel commitment is seen as beneficial for both companies – not just in terms of opportunity and growth, but we're also hoping to identify applications for Henkel products. It's an exciting time to be part of the Kenyon team and we're looking forward to seeing what the future holds. Right now, our prospects look very bright indeed"

Kenyon's are proud to be Henkel Premium Partners
Call: 0161 627 1001 Email: salesteam@kenyon-group.co.uk  Visit: www.kenyon-group.co.uk
Posted in: Woodworking
NEED SOME HELP?
Give us a call on
0161 627 1001