Tecbond glue sticks have been used in the making of rosettes for many years with a proven track record for being high performance and competitively priced.
Rosettes are supplied in a range colours for all occasions, competitions, corporate events, election campaigns and shows.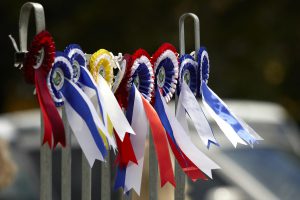 Supplied in a range of styles using centreboards, high quality fabrics and satin ribbons bonded with Tecbond hot melt adhesives. The two main Tecbond glue sticks used for rosette making are:
What's the best all-round glue stick for rosette making?
Tecbond 132  – Clear general purpose  12mm | 15mm
Economical clear general purpose adhesive with good adhesion to many surfaces. Used extensively in rosette making covering off many applications for the bonding of fabrics, silk, paper, card, ribbons and boards. Rosette making encompasses a vast range of creative ideas and designs and we have the sticking power!
I need a slower setting hot melt adhesive?
Tecbond 135 – Long open time general purpose  12mm | 15mm | 43mm
Tecbond 135 is used for more delicate work where time is taken to position materials for bonding or for the gluing of larger areas where the adhesive open time needs to be longer than standard glue sticks.
Standard glue sticks will not stick my fabric, felt or ribbons?
Tecbond 261 – Problem solving adhesives for difficult ribbons and fabrics that have been coated usually with a fire-retardant film. Tecbond 261 is a very high performance, high output, long open time, tough flexible adhesive, suitable for fabrics, plastics (including polypropylene) and wood. Available in 12mm, 15mm and 43mm glue sticks. Made in Britain
How can I reduce the risk of burns, hands, fingers?
Switch to a low melt or multi-temperature glue sticks. Low melt glue sticks like Tecbond LM44 require and low melt glue gun, Tecbond Multi-Temperature glue sticks will work in both hot melt and low melt glue guns! Remember Low Melt helps to reduce the risk of burns!
Always take adequate protection against the risk of burns, read the material safety data sheet (MSDS) prior to using Tecbond glue sticks.
Multi-Temperature glue sticks are also used in arts, crafts and floristry, as well as in schools and colleges, this glue is perfect for bonding a variety of materials including fabrics, glass, wood, paper, card, buttons, string, foil, tin cans, plastic, felt, floristry foam, and many more.
Add colour and sparkle to your work. Be creative and let your imagination run wild! Range of colour glues and glitter glue sticks. Made in Britain.
Why buy from gluegunsdirect.com?
With over 40 years of gluing knowledge and experience we are challenged on a daily basis to find the answer to various adhesive problems and new applications. You will be amazed at what we have been asked to bond and the majority of the time we have surprised ourselves by providing the answer to some very difficult adhesive problems. Gluegunsdirect.com offer a comprehensive range of market leading adhesives technologies, technical support and training, UK stock holding across three warehouses and delivery when the customer needs it. We are the complete adhesive package!
What can you glue with our range of adhesives? Have a gluing problem, don't come unstuck, challenge our glue experts call 0161 627 1001 – Keeping Britain Bonded Since 1979!
What can we GLUE for you ?