Glue Stick Applications
We are the adhesive experts!
Rosette Making
Tecbond glue sticks have been used in the making of rosettes for many years with a proven track record for being high performance and competitively priced.
Rosettes are supplied in a range colours for all occasions, competitions, corporate events, election campaigns and shows.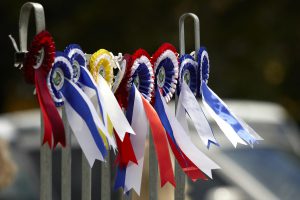 Supplied in a range of styles using centreboards, high quality fabrics and satin ribbons bonded with Tecbond hot melt adhesives. The two main Tecbond glue sticks used for rosette making are:
Tecbond 132  – Clear general purpose  12mm | 15mm
Economical clear general purpose adhesive with good adhesion to many surfaces. Used extensively in rosette making covering off many applications for the bonding of fabrics, silk, paper, card, ribbons and boards. Rosette making encompasses a vast range of creative ideas and designs and we have the sticking power!
Tecbond 135 – Long open time general purpose  12mm | 15mm | 43mm
Tecbond 135 is used for more delicate work where time is taken to position materials for bonding or for the gluing of larger areas where the adhesive open time needs to be longer than standard glue sticks.
What can we GLUE for you ?
Posted in: Glue Stick Applications
NEED SOME HELP?
Give us a call on
0161 627 1001