Tec glue guns are designed to apply our wide range of Tecbond hot melt adhesives, easily, quickly and reliably.
Tec glue guns are low-cost capital items, highly portable and designed to be totally reliable in tough industrial environments. Tec glue guns can apply hot melt adhesive in bead, dot and even spray patterns, depending on the model selected. The wattage of the tool normally determines the melt rate. Tool selection should be based on the amount of adhesive required per assembly, as well as the number of assemblies needed to be produced per hour.
In general, the larger tools are more powerful and are capable of providing greater volumes of hot melt adhesive at the correct temperature for optimum bonding.
Designed to apply Tecbond shaped hot melt adhesives easily, quickly and reliably. Tec glue guns are built to withstand tough industrial environments ranging from light industrial 12mm bead guns to 43mm pneumatic spray guns, each tool is designed to deliver high performance and continuous use. Battery glue guns are the future! Say goodbye to mains power – Battery is powering 2023
Please check our safety advice section on how to use your glue gun safely before you start gluing.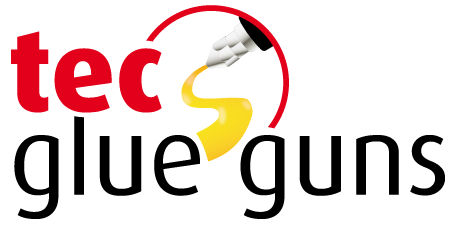 Glue gun glossary:
Adjustable temperature glue gun: Adjustable temperature control thermostat, enabling easy adjustment of the operating temperature to suit different glue formulations (from low melt to high temperature polyamides), and to suit different applications. Tec 820 available in 12mm and 15mm models.
Approvals: Tec glue guns meet very high standards of manufacture and comply with UKCA and CE marks
Badapter: The Badaptor 18V Ryobi battery adaptor allows users to convert their existing 18V battery for use with the b-tec 308 and b-tec 808 cordless glue guns, or any other Ryobi One+ 18V power tools. Quick and easy to attach, the Badaptor means users can continue to use their preferred battery platform.
Battery glue gun: Portable 12mm battery powered glue gun. Portable, lightweight professional 12mm glue gun. Runs on battery power. Features dual temperature setting with Eco mode to extend battery life. Also has a 3 minute warm-up time & illuminated on/off switch. Fully compatible with the Badaptor battery adaptors. Cordless, effortless gluing – Battery is the future. Brand, B-Tec
Bench Mount Kit: At a very low cost you are now able to convert the Tec 6100 or Tec 7100 pneumatic glue gun into a statically mounted, foot-operated glue station, allowing operators to have both hands free for bonding materials. Improving productivity by up 100%. Tec 6100 / Tec 7100 bench mount kit holds the applicator in a horizontal position. This allows the glue gun to remain switched on for longer periods without use (up to 1 hour), without causing meltdown of the glue in the glue chamber. In addition, the design of the 90-degree angled nozzle makes it virtually drip-free.
Charring: Glue guns that have been left on for too long a period without use (often 30 minutes or more) on a regular basis suffer from the risk of charred glue blocking the nozzle or stopping the ball and spring inside the nozzle from operating allowing the molten glue to flow without trigger pressure. Damaged nozzles due to hard work need to be replaced for optimum performance!
Gas glue guns: Gas-Tec 600 glue gun, a robust and compact hot melt portable glue gun that runs on refillable butane gas cartridges, perfect for remote applications. Brand, Gas-Tec
Glue backup: Occurs when an operator attempts to extrude adhesive from a glue gun before it has reached the correct molten temperature. The adhesive which has cooled in the nozzle has not reached molten temperature. Consequently, the adhesive is forced back along the barrel through the gap between the adhesive and the barrel wall by trigger pressure. Can cause serious burns! Always use Tecbond glue sticks/slugs in your Tec glue gun. Other issues which may occur, trigger failure/breaking due to excess force or the inlet tube (inside the tool) splitting causing the tool to short or go bang.
Glue gun: A handheld device that heats and melts solid glue sticks, allowing them to be dispensed as a liquid adhesive.
Glue gun types: You should always choose your Tec glue gun according to the kind of Tecbond glue being used, the dispensing rate you need and the nature of your project.
Glue melt back: This occurs when the glue has been over-softened and is forced back along the barrel of the applicator by trigger pressure. If your glue gun is left on for more than 30 minutes without being used either turn the tool off or dispense a small amount of adhesive, this will help prevent melt-back. Melt-back can cause serious burns! Other issues can be the charring of the glue in the nozzle causing the nozzle to block or the tool to drip constantly.
Glue stick: A solid form of adhesive that is inserted into a glue gun and melted for use. Tecbond glue sticks are supplied in 12mm, 15mm and 43mm diameter, always use a Tecbond glue sticks in a Tec glue gun. Tecbond glue sticks are engineered to fit Tec glue guns and to expand and seal the breach correct.
Heater: Size of the heater whether it's a PTC or Cartridge, controls the melt rate of adhesive.
High-temperature glue gun: A glue gun that operates at a higher temperature than standard glue guns, typically around 195c and cover the majority of Tecbond glue stick formulations, which offer a wider range of options for bonding.
Hot melt adhesive: A type of thermoplastic adhesive that is solid at room temperature and melts when heated in a glue gun.
Low-temperature glue gun: A glue gun that operates at a lower temperature than standard glue guns, typically around 130c. Low Melt glue sticks operate at a lower temperature and are therefore safer to use, as risk of burns are reduced. However, Low Melt glue sticks only come in a selected range and are usually used for bonding heat sensitive materials like polystyrene.
Melt rate: The amount of molten adhesive the glue gun can deliver, usually expressed per hour. Tec 810-12 delivers 2 kilos of molten adhesive per hour.
Made in Britain: Power Adhesives are the only UK manufacturer of both the glue guns and adhesives. UK manufactured tools within the Tec range: Tec 810-12, Tec 810-15, Tec 820-12, Tec 820-15, Tec 3150, Tec 3400, Tec 6100, Tec 6300, Tec 7100 and Tec 7300 to the highest standards. UKCA and CE approvals.
Module: Glue guns such as the Tec 3400 have temperature control modules from 130c – 215c. Most hot melts run at the "standard" glue gun temperature of 195c, but we also offer low melt adhesives that run at 130c and heat resistant polyamides that run at 215c. It is also sometimes useful to run at a lower temperature to prevent heat damage to some materials (heat sensitive) the adhesive might be applied to. The Tec 3400 modules can be changed by a competent person to adjust the temperature.
Nozzle: The tip of a glue gun that dispenses the melted adhesive. NEVER remove the nozzle from a cold applicator as thread damage could result. Remove when warm and always wear protective gloves. Spray nozzles are available for the Tec 6300 and Tec 7300 glue guns for covering larger areas or bonding heat-sensitive materials such as foam or polystyrene. Nozzles are made from aluminium with two Valve types: Oiler or Ball & Seat. Heavy-duty nozzles are made from steel.
Pneumatic glue gun: A glue gun that is powered by compressed air. Effortless to use and deliver the highest output of adhesive. Tec 7100 is probable the most powerful hand-held glue gun in the world.
Power cable: 3m permanently attached flexible cable with plug. Pneumatic tools have the option of 6m or 12m cordsets. Power cables can be custom made to various sizes supplied to suit application.
Plug variants: Tec glue guns sold on gluegunsdirect.com are sold as standard with either 120v or 230v UK plug factory fitted. Tec glue guns are sold globally requiring different plug variants to suit: Euro, USA, CH, ZA or AU
Spray glue gun: In reality, the correct term should be swirl, however spray has become an industry standard. Tec 6300 and Tec 7300 are spray glue guns for industrial use, it sprays hotmelt at any angle with adjustable spray pattern and various nozzle options for fine to wide spraying. Brand, Spraytec.
Stand: A device that holds a glue gun upright when not in use, preventing the nozzle from touching surfaces and causing damage. Never lay a Tec glue gun on its side, always use the stand. Molten glue will always try and find an orifice other than the nozzle to leak into if the tool is left on its side.
Temperature control: Glue guns supplied with a cartridge heater can be modified (at factory or by a competent electrician) by using Interchangeable thermostats. Tec 810 Hot Melt glue gun can be converted to a Low Melt by changing the heaters interchangeable thermostat. Tools such as the Tec 820 have built in adjustable temperature control changeable by the user. Tec 3400m has optional temperature modules to control the tools temperature, again changeable by the user.
Trigger feed: A mechanism on a glue gun that allows the user to control the flow of adhesive by pressing a trigger. Always allow the Tec glue gun to reach operating temperature before squeezing the trigger, resist pulling the trigger if the tool hasn't reached temperature, you may snap the trigger. You should always choose your Tec glue gun according to the kind of Tecbond glue being used, the dispensing rate you need and the nature of your project.
Voltage: Tec glue guns sold on gluegunsdirect.com are sold as standard with either 120v or 230v UK with plug factory fitted.
Warranty: Tec glue guns are supplied with a 12-month UK warranty from date of purchase when used with Tecbond glue sticks.
Wattage: Electrical power is usually measured in watts; hence, electrical power is often referred to as wattage. The higher the wattage, the greater the amount of electrical energy that an electrical glue gun uses over a period of time. Tec 305 is the lowest wattage tool within the Tec glue gun range at 120 watt delivering only 750 grms of molten adhesive per hour, perfect for craft work. Tec 7100 is the most powerful bead glue gun at a 1000 watts delivering an incredible 5 kilos of molten adhesive per hour!
Weight: Very important to consider the weight of a glue gun if an operator is using the tool for long periods. Take the weight out of a glue gun by using a Spring Balancer or Bench Mount Kit if you are using an applicable glue gun.
Useful glue gun links: