Glue Gun Service
We are the adhesive experts!
What's the difference between Hot Melt and Low Melt Glue Guns
It seems obvious, we know, but it's a common question people are asking via Internet search engines. And it's a question we are asked by customers when they are looking for a glue gun from our range.
THERE ARE TWO GLUE GUN OPTIONS
Hot Melt – for use with all Tecbond Glues, except Low Melt Glues
Low Melt – for use with Tecbond LM44 Low (Cool) Melt Adhesive and Multi-Temperature adhesives
These guns are often referred to as High Temp and Low Temp glue guns. They have fixed settings 195°C for high temp guns and 130°C for low temp. In some cases (for example the Tec 820-12 and Tec 820-15), these glue guns have adjustable temperatures, from low to high melt.
Low Melt Glue Guns
Low melt glue guns are safe and easy to use. They carry a reduced risk of burns due to a lower temperature and are commonly used for bonding heat sensitive materials, arts and crafts and schools. We have even seen a customer apply a low melt adhesive (Tecbond LM44/12) directly to an inflated balloon without the balloon popping! Down side: restricted glue formulations.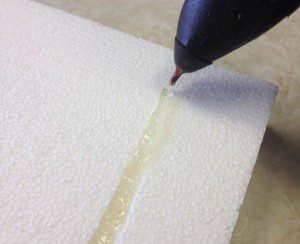 Hot melt adhesives can damage heat sensitive materials like polystyrene
Covering large areas of heat sensitive materials (like polystyrene) use a Tecbond spray grade applied via a Tec spray glue gun Watch our Tecbond spray adhesive video
Hot Melt Glue Guns 
High melt glue guns have a wider selection of adhesive formulations to choose from. Covering off the bonding of more challenging materials like polypropylene, plastics, ABS, acrylics and even metals. Try our Glue Selector
All of our glue guns are available in both hot melt and low melt versions. (except Gas-Tec 600)
There are Glue Sticks called Multi-Temperature Glue Sticks that work in either Hot or Low melt glue guns. Clear glue sticks, coloured glue sticks and glitter glue sticks are available with the range. These glue sticks are based on the Tecbond 240 glue formulation and offer a greater range of adhesion to substrates such as wood, ceramics, light gauge metals and many plastics, such as rigid PVC, polystyrene, ABS and acrylic.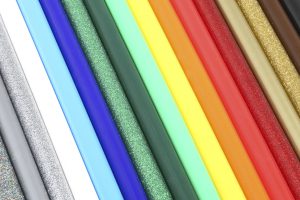 Choosing between Hot Melt and Low Melt glue guns
You should always choose your Tec glue gun according to the kind of glue being used, the dispensing rate you need and the nature of your project. Hot Melt glue guns cover the majority of Tecbond glue stick formulations, which offer a wider range of options for bonding. Low Melt glue sticks operate at a lower temperature and are therefore safer to use, as risk of burns are reduced. However, Low Melt glue sticks only come in a selected range and are usually used for bonding heat sensitive materials like polystyrene and foam.
You should never use Tecbond Low Melt glue sticks in a hot melt glue gun (or hot melt glue sticks in a low melt glue gun) unless specifically directed by a member of the GlueGunsDirect team.
If ever in doubt, or if you want to know more about Hot Melt and Low Melt products, please call a member of our expert sales team for assistance on 0161 627 1001 or email sales@gluegunsdirect.com
Related pages:
Watch our 12mm glue gun range video
How to use a Tec glue gun video
What can we GLUE for you ?
Posted in: Glue Gun Service
NEED SOME HELP?
Give us a call on
0161 627 1001