Woodworking
We are the adhesive experts!
Kitchen Manufacturers
Here at the Kenyon Group one of our key customer bases is supplying glue and glue-related products to the kitchen manufacturer industry. Different types of glue are essential for the production of kitchens. We often get asked about which types of glue are most suitable for different tasks when it comes to the manufacture of kitchens. As such, we have put together this post to answer some of the most frequently asked questions.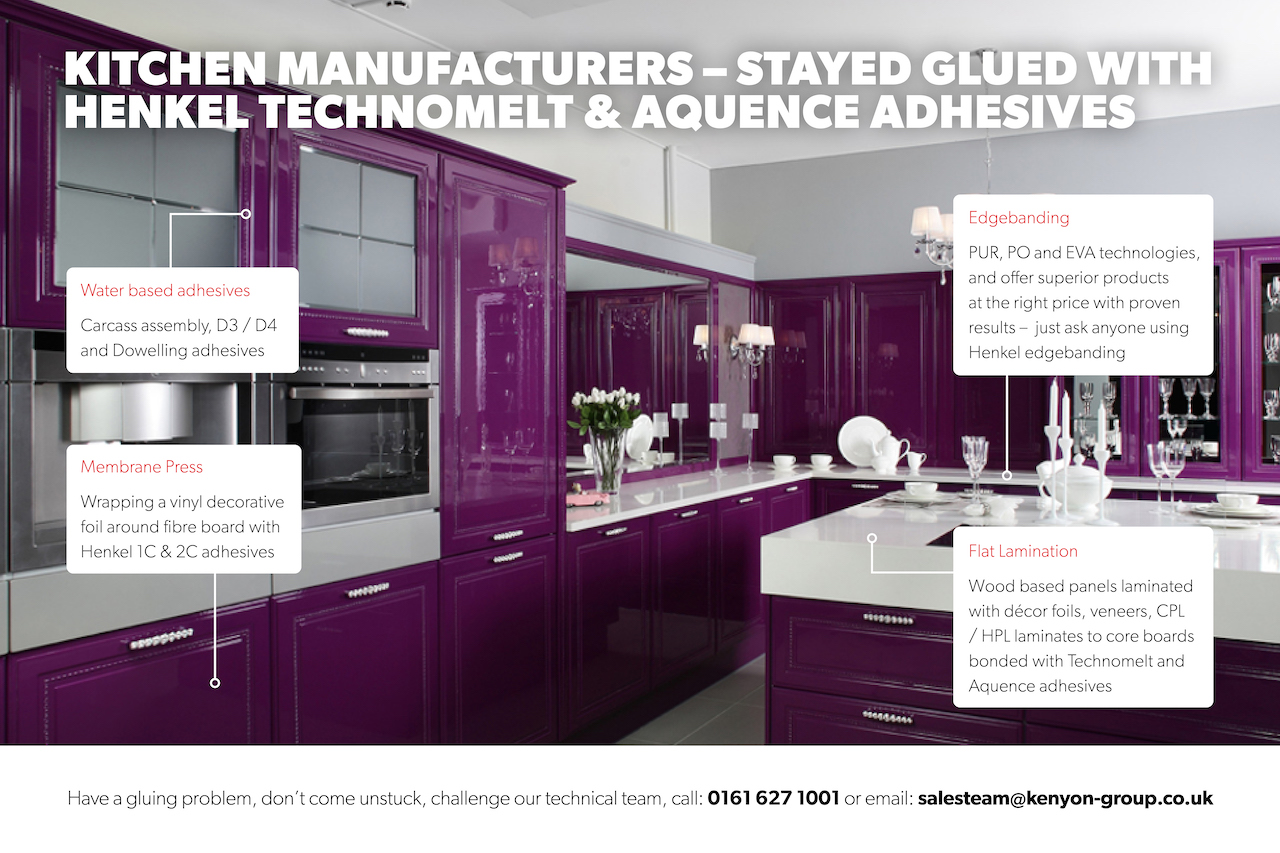 Which glue for what purpose? 
Carcass Assembly:
Water-based adhesives –  D3 / D4 and Dowelling adhesives.
Membrane Press:
Wrapping a vinyl decorative foil around fibre board with Henkel 1C & 2C adhesives
Edgebanding: 
PUR, PO and EVA technologies, and offer superior products at the right price with proven results –  just ask anyone using Henkel EVA edgebanding adhesives or Henkel PUR edgebanding adhesives
Flat Lamination: 
Wood-based panels laminated with décor foils, veneers, and CPL / HPL laminates to core boards bonded with Technomelt PUR and Aquence D3 adhesives.
Frequently Asked Questions
Q: Which glue for kitchen worktops
A: Henkel Technomelt 4663 PUR adhesives designed for flat lamination of HPL and CPL to core boards to manufacturer kitchen worktops and achieve the highest water and heat resistance. Technomelt 270 PUR adhesive for edgebanding used by kitchen manufacturers across the UK and Europe. Micro Emissions (ME) versions are available for a more environment and operator-friendly approach to gluing. We also offer a D3 PVA for flat lamination
Q: Best glue for kitchen cabinets laminate
A: Wrapping a vinyl decorative foil around fibre board with Henkel 1C & 2C membrane press adhesives. Henkel Aquence FD150-6 and Aquence FD151 have a proven pedigree for excellence, especially on high gloss foils.
Q: Best glue for edgebanding
A: To achieve the highest heat and water resistance for a kitchen environment you need the best adhesive – Technomelt 270-7 PUR adhesive. Also available in granules
Q: Which glue for carcass assembly?
A: Henkel AQUENCE DL 1040 is a one-component D4 dispersion for an assembly where increased water resistance and heat resistance is required
Q: Best glue for mitre joints?
A: Mitre Fast – Furniture, joinery and kitchens where an instant bond is required for mitre joints.
Q: Best glue sticks for templates and granite worktops?
A: Tecbond 135 – Economical long open time. Hot melt is used extensively for bonding blocks and templates for Corian and granite worktops.
Q: Best D3 for Flat Lamination of HPL, CPL, Venners to core boards like MDF, chipboard and blackboard?
A: Kenyon D3 PVA Adhesive. For laminating doors including fire doors and surface bonding of HPL/CPL Venners to core board like MDF, Plywood, Chipboard and block board in short cycle presses – and it's made in Britain!
Q: Best contact adhesive for laminating HPL/CPL for on-site work?
A: Tuskbond One – Fast drying contact adhesive with good heat resistance. O Fire rating, suitable for bonding a wide variety of products.

Posted in: Woodworking
NEED SOME HELP?
Give us a call on
0161 627 1001